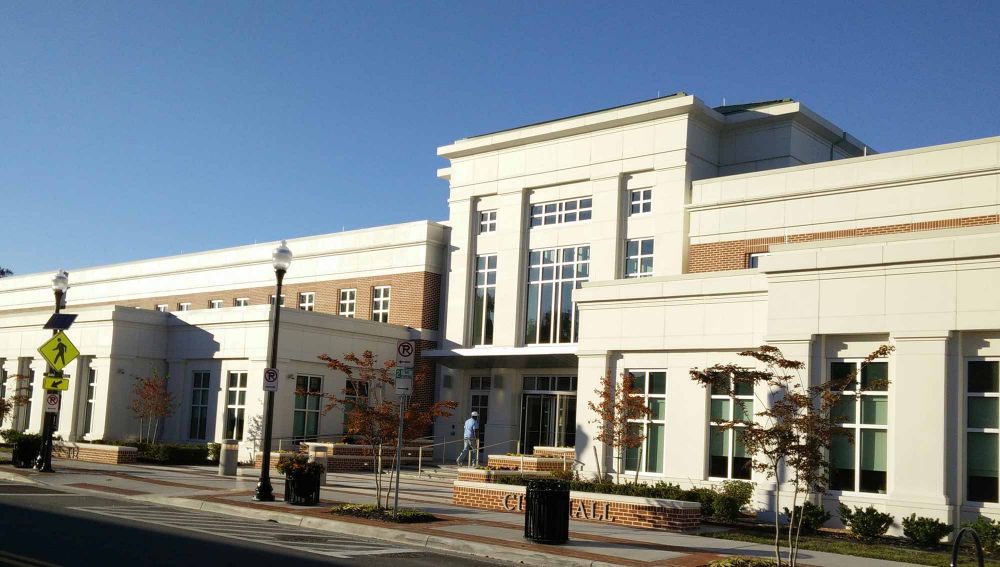 Suffolk Municipal Office Building & E911 Call Center
This building was designed to serve the entire Suffolk community more effectively and efficiently.
Served as Structural Engineer of Record and Agent 1 Special Inspector for the design/build of a new two-story 115,000 square foot municipal center for the City of Suffolk which was designed to be LEED Silver certified with sustainable design features. This steel-framed building features Class A office space, an E911 call center, and onsite parking. The design is based on RFP documents produced by another design team.
This new facility embodies the general architectural style and construction type of other Municipal buildings within the downtown Suffolk area and complies with the Suffolk Historic District Design Guidelines. The existing Municipal Building was demolished to accommodate the new parking and various other site improvements. Spaces and departments are housed in the new building are: E-911 Call Center, Office of the Mayor, City Manager's offices, City Attorney's offices, Finance Department, Budget Department, Media and Community Relations Department, Purchasing Department, Human Resources Department, Risk Management, Capital Programs and Buildings Department, Public Works Department, Public Utilities Department, Planning and Community Development Department, Information Technology Department, Office of the City Clerk, City Treasurer's offices, Commissioner of the Revenue's offices, City Assessor's offices, Voter Registrar's offices, Conference Rooms, "One Stop" Customer Service area, Public Lobby, Mechanical Equipment Room/s, and various other building support spaces. The new E-911 Call Center I Municipal Center Building was planned and constructed for future expansion.
Awards |
2015 Best Institutional/Public Building, Award of Merit, Hampton Roads Association for Commercial Real Estate Award