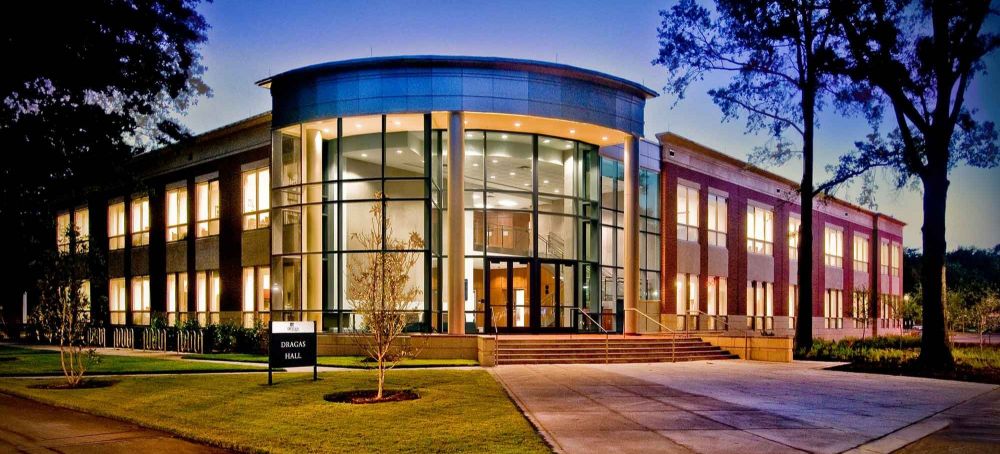 Dragas Hall Renovation at Old Dominion University
Dragas Hall houses Old Dominion University's Computer Science faculty offices and classrooms.
Originally constructed on the campus in 1959, Speight Marshall Francis served as Structural Engineer of Record and Agent 1 Special Inspector for the renovation of this notable 48,740 square foot building situated at the corner of Hampton Boulevard and 49th Street. Dragas Hall houses the Computer Science faculty offices and classrooms. This project and the adjacent Visual Arts Building (also designed by our firm) are now connected by a two-story addition.
This $5.2 million renovation included upgrading the elevator, renovating the restrooms, replacing building systems, adding a new grand entrance, and reconfiguring the second-floor interior spaces to accommodate academic program needs including faculty/support offices, classrooms, and labs, and several administrative offices. The roof, exterior walls, and lobby areas were renovated or repaired. Renovations include the first floor to comply with ADA guidelines, renovation of the second floor to reconfigure interior partitions, new elevators, mechanical system, sprinkler system, and the addition of skylights on the roof. The exterior changes blend the building with the surrounding architecture on the campus. The existing solar block screen and storefronts that encased the building were replaced with brick veneer to match the campus and a new curtain wall façade. A Commonwealth of Virginia project, design documents went through the rigorous BCOM review and approval process (currently known as the DEB-Division of Engineering & Buildings).

Awards |
2011 Best Renovated/Historic Rehabilitation Project, Award of Merit, Hampton Roads Association for Commercial Real Estate