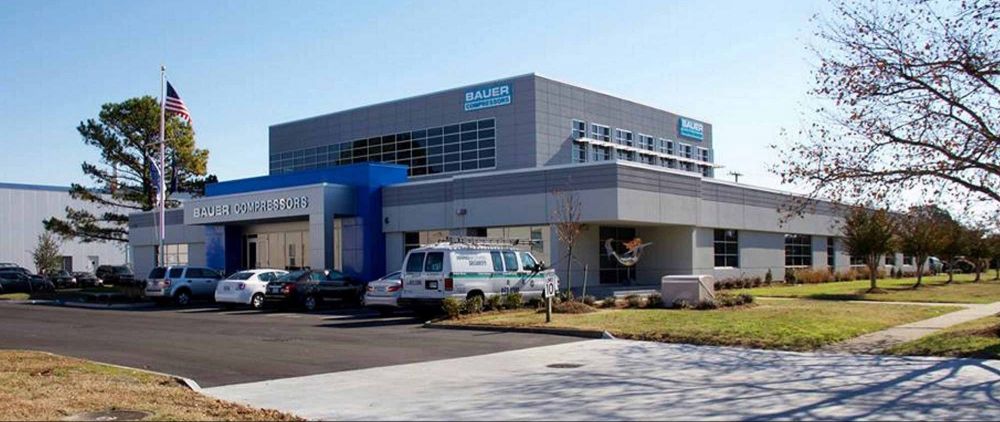 BAUER Compressors Headquarters
The renovation and addition to BAUER's Norfolk, Virginia facility was a collaboration with RRMM Architects. BAUER has been manufacturing high pressure compressors since 1946.
Speight, Marshall & Francis produced Construction Documents for this addition & renovation project using Revit® Building Information Modeling (BIM) software. BAUER received a new 12,000 sf, two-story infill addition to their single-story administration building which includes a lobby and showroom to display products, a bistro with attached catering room and pantry, and a variety of open and standard office spaces with employee break areas. Renovations included parapet modification to the existing 12,000 sf building as well as creating a new main entry and associated ramps.
32,000 sf was renovated and 18,000 sf of new space was added to the manufacturing building through a single-story building infill between two separate manufacturing buildings which boasts a heavy-duty concrete slab-on-grade to withstand the substantial manufacturing equipment and material needed for compressor fabrication. Also designed structure for a 20-ton bridge crane with a length of 100'-0". New spaces also include a powder coat paint line, new grind and weld booths, and a new robotic panel bender.
BAUER has been manufacturing high-pressure compressors for over 60 years. From their humble beginnings in the BAUER family home in Munich, Germany in 1946 to their current status as an industry leader, BAUER has earned its reputation as the world's foremost innovative designer and manufacturer of high-pressure compressors and purification systems. BAUER now has 8 locations throughout North and South America. $10M.

Image courtesy of RRMM Architects.